Dr. Grant celebrates Wei-Ming Watson's receiving her Ph.D. in Clinical Psychology at UC San Diego's commencement on 6/11/22
With co-mentorship provided by Dr. Grant and his colleague Dr. Erin Morgan, Wei-Ming Watson built an impressive record of research examining the role of trauma/stress on cognition, mechanisms of ethnic/racial cognitive disparities, and the complex influence of cannabis/cannabinoid exposure on cognitive health. Her dissertation research revealed that modest exposure to cannabis was associated with improved neurocognitive function among those with HIV, and that this was associated with lowered pro-inflammatory cytokines in CSF but not plasma, thereby supporting the idea that cannabis may have anti-inflammatory properties in the CNS. Her work also revealed that among older adults with HIV, while current occaisonal use (weekly or less) related to better cognitive function, recent THC exposure was associated with a temporary decrement in memory. In these ways Watson's work emphasizes that whether cannabis might have negative, neutral, or positive effects on brain function very much depends on age, acuity of use, and whether there is an underlying condition for which cannabis might have medicinal value.
Completing her clinical geriatric neuropsychology internship at the VA Palo Alto Health Care System, Dr. Watson will be entering a postdoctoral fellowship at the University of California, San Francisco's Memory and Aging Center. Unquestionably we shall be hearing of her many positive contributions as her career progresses. Congratulations, Wei-Ming!
---
Nikhil Kotha receives the Igor Grant MD Endowed Award for Academic Excellence and Biomedical Research
Dr. Grant presents the Igor Grant, M.D. Endowed Award for Academic Excellence to Nikhil Kotha, at UC San Diego School of Medicine's 2022 awards ceremony for graduating medical students.
This award was established by JoAnn Grant in honor of her husband Dr. Igor Grant, Distinguished Professor and former Chair of the Department of Psychiatry, to celebrate his longstanding commitment to the UC San Diego School of Medicine and ongoing mentorship of future physicians. As a medical student, Dr. Grant was able to conduct research during his tenure through the support of mentors and financial assistance. The Grant family hopes to inspire future generations of medical scientists with this prize. The award recognizes a graduating senior(s) who ranks at the top of their class academically who also sought additional opportunities to conduct biomedical research.
Nikhil's faculty nominator, Professor James Murphy praised Nikhil as a 4th year UCSD student heading into radiation oncology who took a gap year between his 3rd and 4th years of medical school to pursue cancer research. He is tremendously talented and hardworking, having published 10 manuscripts (and several more abstracts) during medical school, including a high impact first-authored publication in the Journal of the National Cancer Institute (PMID: 34918091). He has collaborated with researchers in different disciplines, and mentored younger students through their own research projects.
Newly minted Dr. Kotha plans to pursue advanced training at Stanford's Radiation Oncology program.
---
UC San Diego celebrates 40 years of endowed chair philanthropy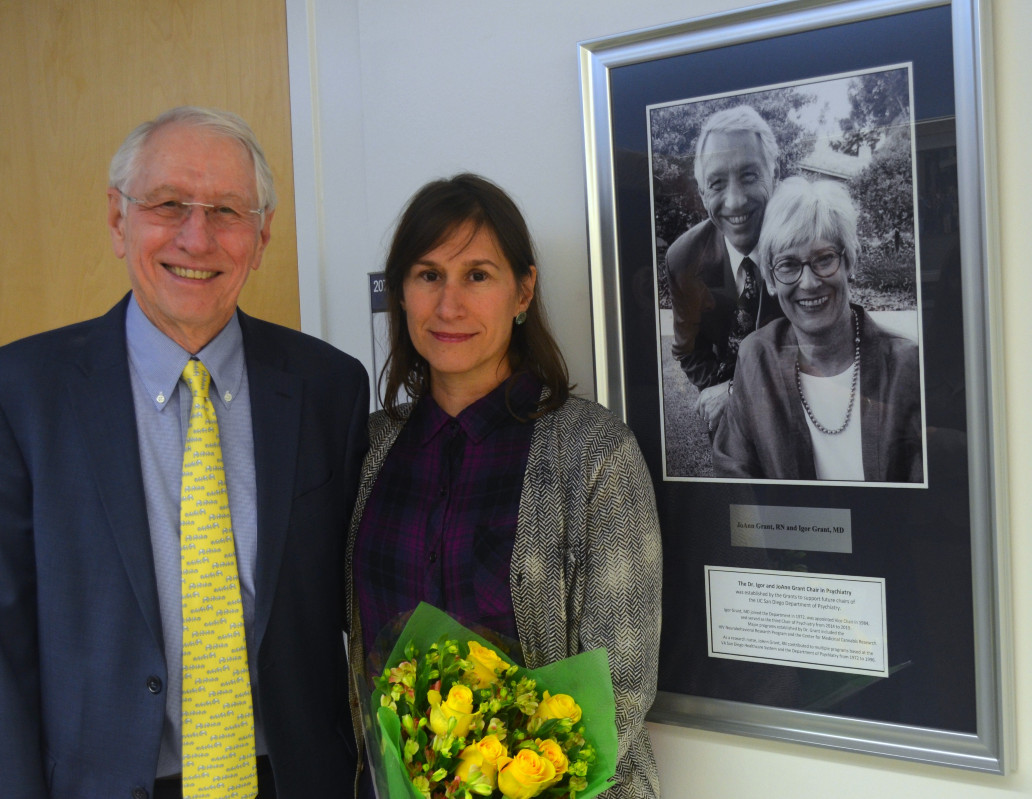 In 2021, UC San Diego celebrates 40 years of philanthropy in support of endowed chairs. The Campaign for UC San Diego added 100 new endowed chairs for a total of 255 across nearly 70 academic departments, divisions and schools. The Campaign highlighted the Dr. Igor and JoAnn Grant Chair in Psychiatry, among other endowed chairs, as an example of building a legacy as well as passing "the torch to a new generation of innovators." Click here to read more about the Grant Chair in Psychiatry as well as other notable endowed chair donors.
Pictured is Dr. Igor Grant and daughter Dr. Jenna Grant at the December 3, 2019 installation of the portrait of Igor Grant and JoAnn Nallinger Grant marking their endowment of the Dr. Igor and JoAnn Grant Chair in Psychiatry.
---
A Celebratory Event - Grant Endowed Chair in Psychiatry
The Dr. Igor and JoAnn Grant Endowed Chair in Psychiatry supports the chair of the Department of Psychiatry at UC San Diego School of Medicine. It is part of the Chancellor's Chair Challenge, an effort to increase recruitment and retention of exceptional tenured faculty. Igor and JoAnn Grant have served the Department for nearly 50 years, helping to lay the foundation for tremendous achievements and now creating a lasting legacy through the establishment of this endowed chair. On October 22, 2020, the Department celebrated the Grant family and the new chair and inaugural holder of the Dr. Igor and JoAnn Grant Endowed Chair in Psychiatry - Zafiris "Jeff" Daskalakis, MD, PhD, FRCP(C).
Dr. Igor and Joann Grant Endowed Chair in Psychiatry - A Celebratory Event from CMCR on Vimeo.
---
Dr. Grant celebrates with Jacob Moul on completing his Bachelor's in Science at UCSD during the virtual commencement on June 13, 2020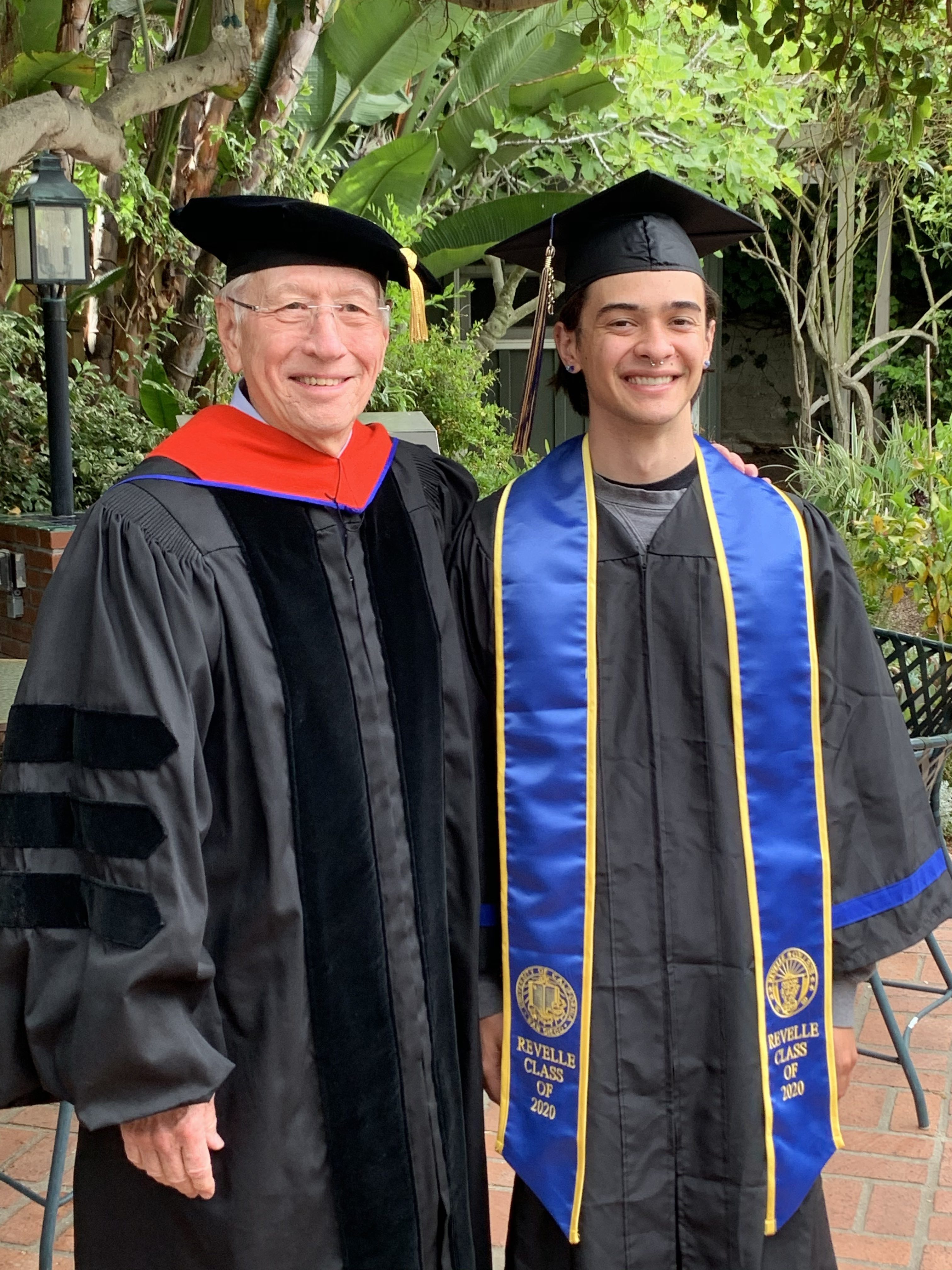 Jacob earned a degree in Probability and Statistics through the UCSD Math Department and a minor in Data Science. He completed multiple data science projects concerned with climate change and its impacts on the environment and the inhabitants of California while pursuing his minor. Jacob also served as a Research Assistant at Scripps Institution of Oceanography under Professor Katherine Ricke, working on a project to evaluate the efficacy of current climate change impacts models. Jacob's positive undergraduate experience was aided in large part by the recently established UCSD Data Science Department and all of its advisors and professors. Though Jacob did not have an affiliation with the UCSD Medical School, Dr. Grant provided Jacob with mentoring throughout his time at UCSD, and was very pleased to serve as a family faculty representative in this virtual graduation.
---