Dr. Grant celebrates with Susan Roepke-Buehler receiving her Ph.D. degree from UCSD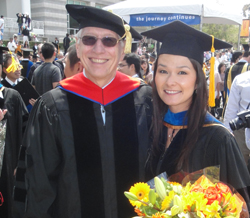 On June 16, 2012, Susan Roepke-Buehler, a doctoral student under the mentorship of Dr. Grant, received her Ph.D. from the SDSU/UCSD Joint Doctoral Program in Clinical Psychology. Susan worked with Dr. Grant on the Alzheimer Caregiver Study for the past 6 years examining the effects of chronic caregiving stress on psychological and physiological outcomes. During her time with the Caregiver Study, Susan authored/co-authored over 30 peer-reviewed articles in a variety of reputable psychiatry, psychology, aging, and cardiology journals. Susan's dissertation work focused on modeling the psychosocial and physiological pathways linking chronic stress to atherosclerotic disease in Alzheimer caregivers. Psychosomatic Medicine published one of her first-authored papers reporting that caregivers were more likely to have carotid plaque compared with noncaregivers. The results from this study also suggested that the development of plaque might be enhanced by prolonged sympathoadrenal response to acute stress. Susan completed her final year of her graduate training on internship at the University of Illinois at Chicago (UIC) in the Departement of Psychiatry. She then accepted a postdoctoral fellowship at UIC and is excited to continue her training in Health Psychology. Congratulations, Susan!
Dr. Grant celebrates with Kenny Lin receiving his M.D. degree from UCSD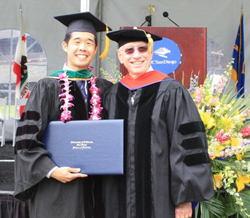 It was a happy day for Kenny Lin and his family on June 3, 2012, as he received his M.D. from the UCSD School of Medicine. In addition to completing his demanding medical curriculum, Kenny chose to do research under the mentorship of Dr. Grant, and assisted by Dr. Michael Taylor. Kenny received one of only three NIH summer grants awarded in 2009, to pursue a project on the effects of history of head injury on neurological function in persons with HIV infection. This project led to Kenny's publishing a first author paper entitled "Effects of traumatic brain injury on cognitive functioning and cerebral metabolites in HIV infected individuals", which demonstrated that non-severe traumatic brain injuries did indeed increase the risk of mild neurocognitive problems in persons with HIV, and also that there may be persisting changes in certain brain metabolites to indicate neural injury. Kenny also completed another project which was an online resource for students wishing to develop a better understanding of neurocognitive disorders. Kenny is continuing his specialty training in Psychiatry at the University of California, San Francisco. Congratulations, Kenny!
Nadir CD4 Related to Neurocognitive Impairment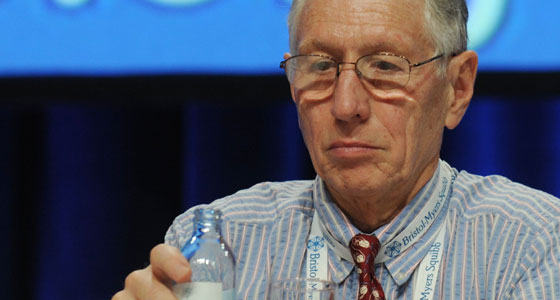 Researchers from the CHARTER study found that nadir CD4 count is strongly associated with neurocognitive impairment (NCI) even after adjusting for confounding variables that can influence both nadir CD4 and NCI. This association is attenuated with combination antiretroviral therapy (CART) use, but remains present when examining only those on CART with an undetectable viral load. These findings suggest that low nadir CD4 could represent a "legacy event" in HIV infection that establishes slow or non-reversible brain damage. Prevention of severe immunosuppression may lead to more favorable neurocognitive outcomes.
Aging HIV Population Faces Increased Risk of Health Issues (KPBS, September 24, 2010)
The Centers for Disease Control estimates by 2015, half of all Americans living with HIV will be over 50. Doctors say the complex interactions between HIV, anti-retroviral therapy and aging aren't fully understood. But there is evidence that the disease increases one's risk of a variety of health problems. (Link to Full Article)
CMCR in the News: Health Effects of Marijuana (KPBS, September 27, 2010)
KPBS investigates Prop. 19, a ballot initiative that would make recreational use of marijuana legal and allow cities and counties to tax and regulate the sale of the drug. (Link to Full Article)